Guest Room Management System based on C series of controllers is a flexible solution applicable for different size hotels, from small inns to luxurious hotels. Our Guest Room Management System is designed so that each room has one controller, and several room units. It is a scalable system meaning new elements can easily be added to meet the system requirements.
What we do?
Guest Room Control Systems
Energy Management Systems
Lighting Controls
Integrated Room Solutions
Savings, comfort and safety
SYSTEM BASED ON COMPACT SERIES CONTROLLERS
FLEXIBLE SOLUTION
APPLICABLE IN ANY HOTEL SIZE
OFFERS WIDE RANGE OF FUNCTIONALITIES

For more info visit Smart Hotel Control site.
Major Advantages of the System are
ENERGY SAVING

Energy consumption is one of the largest operating costs in hotels. Guests are away from their rooms more than 50% of the time, frequently leaving utilities running in their absence. Our system provides better management of energy consumption, and therefore major savings.

ECO-FRIENDLY

By cutting energy consumption, our solution is going along with green trends in building technology. Saving the environment has become a very important mission for humanity and with our solutions, hotels can make a small contribution to that mission.

COMFORT

One of the key tasks in hospitality industry is bringing comfort to guests. By making it easy to control room elements, with everything at hand, with intuitive panels and ease of access, our solution brings high comfort level to guests.

SAFETY

Another big issue in hotel business is security. With security measures both in access control and in monitoring, the system represents a secure option both for hotel owners and guests.

PROGRAMMABILITY

Our controllers are programmable, making it easy for our clients to choose the perfect room setting in their hotel. Whether it is a small simple hotel, or a luxurious one, we have a solution that can cover many options.

DESIGN

On our glass panels, you can choose different colors and pictogram designs, so that it best suits your hotel interior design. Different styles of room panels make them adjustable to any room design.

INTEGRATION

Easy to integrate with other systems in the building via BACnet or Modbus protocol.
Main functionalities
Guest Room Management System based on C series of microcontrollers is a flexible solution applicable for different size hotels – from small inns to luxurious hotels.
Main functionalities are access control, power saving, staff monitoring and more effective processing of different alarms.
Access control is implemented by RFID cards with security codes that guarantee safety in building. Security level is increased by alarm signals (SOS, flood, burglary) instantly sent to the monitoring computer.
Energy consumption optimization is achieved by air-condition system management, room lighting control and water consumption control.
Monitoring of hotel staff activities includes monitoring and reports on cleaning, maintenance and room availability control. This kind of monitoring improves quality of service and reduces business expenses.
Alarm system processing includes SOS calls, room service, "do not disturb" sign, flood and fire alarms, unauthorized access alarm etc. These features increase security level in the hotel and are often required for hotel's higher rank.
EUROICC Guest Room Management System basic element
Guest Room Management System - Communication infrastructure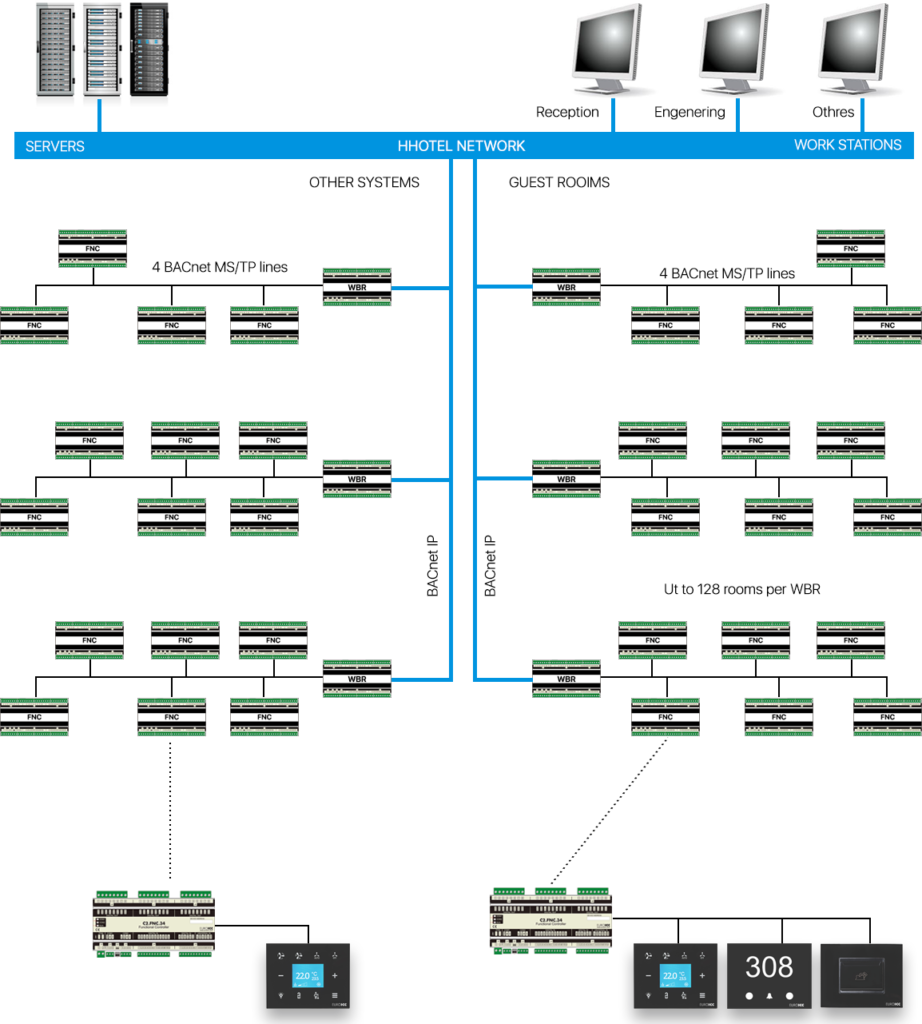 Room controllers are connected per floors or sections by BACnet MS/TP IP connection RS485 with BACnet router C4.WBR.02
One MS/TP line can connect for example up to 254 C2.FNC.34 functional controllers. Length of the communication line is maximum 1000 m.
BACnet router is connected to the monitoring server by ethernet connection on BACnet/IP protocol
Our system communicates with PMS and BMS and any other external system such as fire protection system
Central server (SHC-R) has SCADA functionality and can be extended with various data link and visualization modules
SHC-R acts as a communication bridge with Fidelio
Guest Room Management System - Reception management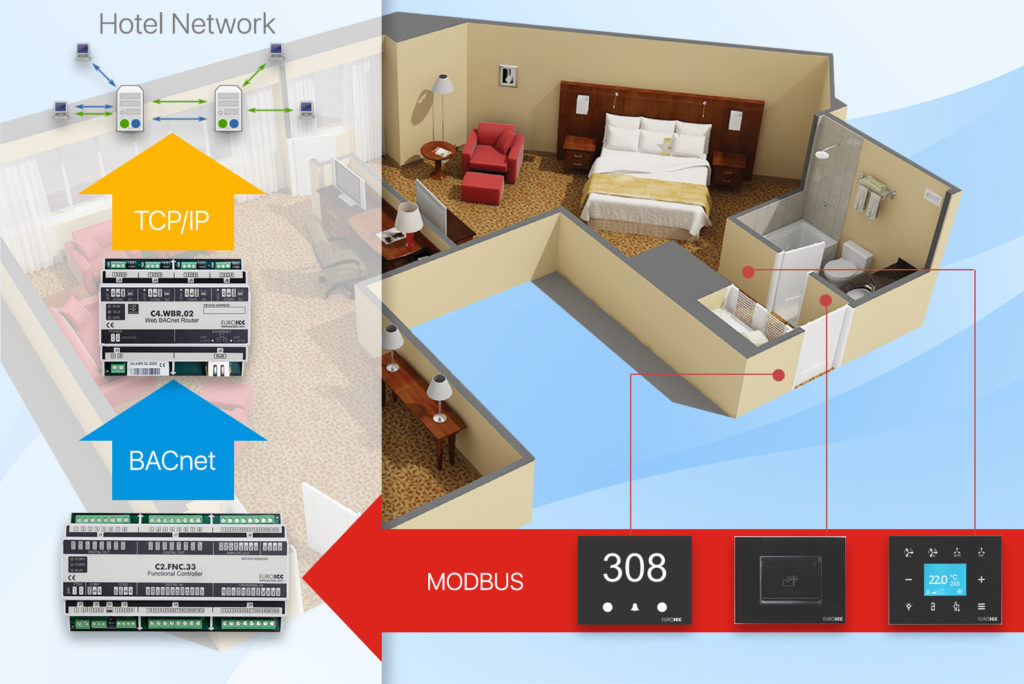 Smart Hotel Control enables complete overview at the reception. From check-in to check-out all calls and signals sent by guest from their rooms are registered at the reception
Further more, reception receives emergency signals such as flood and burglary
All signals are shown in real time
Guest Room Management System - Software overview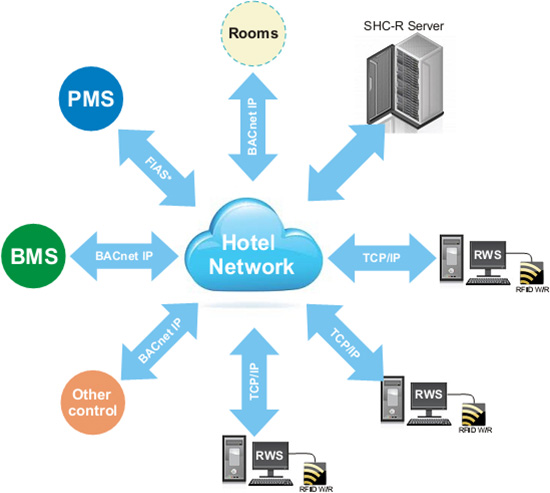 Our system uses standard BACnet and Modbus protocols
Modular – supports different data sources and data visualization modes
Micros Fidelio is one of the most widely used hotel property management systems
Smart Hotel Control integrates through FIAS into hotel systems that use Micros Fidelio
Micros Fidelio covers reservations, guests, rooms, keys, state of equipment in rooms, hotel staff, paid contents (swimming pools, saunas, parking, etc.)
Guest Room Management System - WIRING EXAMPLES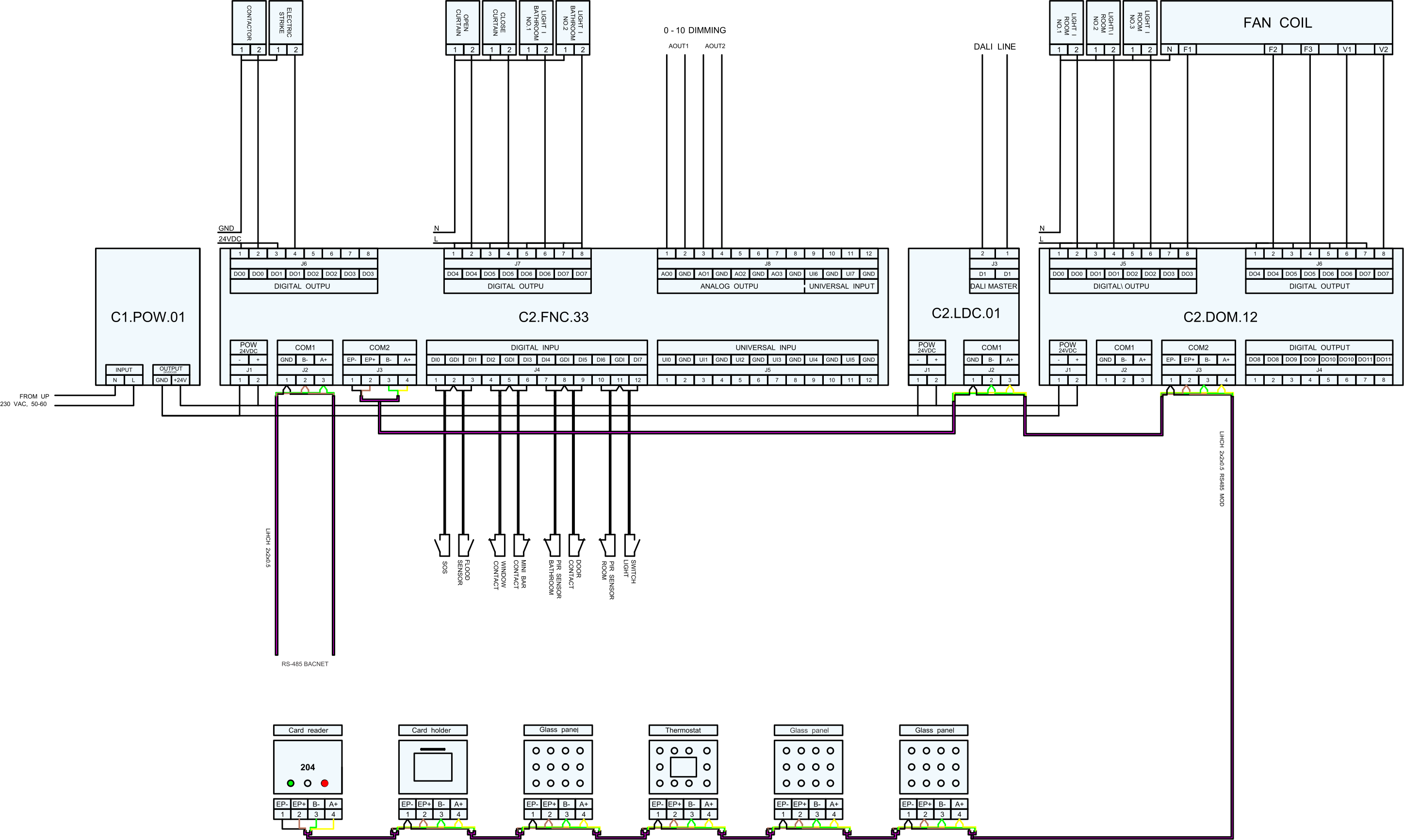 GUEST ROOM MANAGEMENT SYSTEM
Toccata is a RMS that incorporates room monitoring and hotel management. The application enables an unlimited number of users.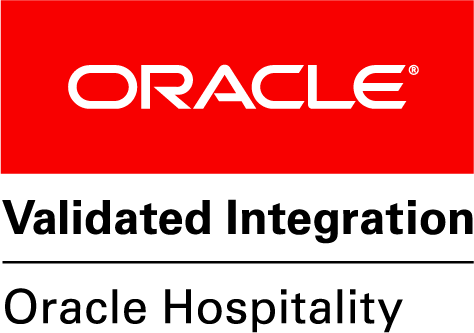 ToCCata communicates with Oracle Hospitality OPERA and Suite8 property management system (PMS) via the Fidelio Interface Application Specification (FIAS) protocol. Communication enabled includes notification of guest check in and checkout, room movements, and stay extensions.ToCCata provides an innovative and energy efficient approach to hotel room management. ToCCata's main purpose is to provide better room experience and comfort to your guests. Its aesthetically pleasing modern design and intuitive user control interface all work together to create a better user experience. ToCCata enables an easier room energy consumption and an efficient power saving.
FEATURES
Server application is based on SQL database and has a REST API.
Provides real-time monitoring of numerous events such as door state, room fan speed, who is present and temperature measurements.
Monitors the status of the room (DND, MUR, SOS) Supports seasonal programming of temperature settings.
Desktop client with modern, sleek design.
Supports encoding keycards for guests and staff (Modbus protocol).
Latest TCP/IP interface to PMS (e.g Protel).
Communication with room controllers is done with BACnet protocol.
Scalable and modular system.
Has integrated alarm system that tracks all emergencies.
System log tracks all events in the hotel.
Provides staff management module.
RECOMMENDED ACTIVE COMPONENTS REQUIREMENTS
Secure communication is based on a reliable passive and active network connections with the following minimum requirements:
10/100 Base-T layer 3 edge switches
Redundant fiber links (Secondary and primary links) to connect edge switches to core switch
Core Switch with Hot- swappable, redundant, and integrated fan and power supply assemblies
VLANs with dedicated bandwidth
UPS for every rack in each IDF/MDF
UPS for Servers and Workstations
Bandwidth consumption per RCU is almost negligible <50 Bytes per sec or 0.4 kbs
We recommend utilization of supervision software and port monitoring utilities
RECOMMENDED SPECIFICATIONS
To ensure proper operation, a reliable hardware and software shall be provided with the correct platform as follows:
SERVER AND NETWORK MINIMUM HARDWARE REQUIREMENTS
Processor
Intel Xeon E3
RAM
8 GB
Storage
256 GB for database (min RAID 1)
Switch
8 ports
SERVER SOFTWARE REQUIREMENTS
Softwarer
Java 1.8
OS
Linux
Database
PostreSQL Server
CLIENT MINIMUM HARDWARE REQUIREMENTS
Processor
Dual Core 2.0 GHZ
RAM
8 GB
Storage
256 GB
CLIENT SOFTWARE REQUIREMENTS
OS
Windows 7+
Software
Java 1.8
ROOM MONITORING
Hotel clerk can remotely access information related to any room using selected (activated) options (filters). Currently available options are: set and actual room temperature, fan speed, room door open/closed, SOS activated, Room Service ordered, room status, Do Not Disturb sign on. The status of rooms is shown by different colors: yellow – occupied, blue – available, gray – out of service.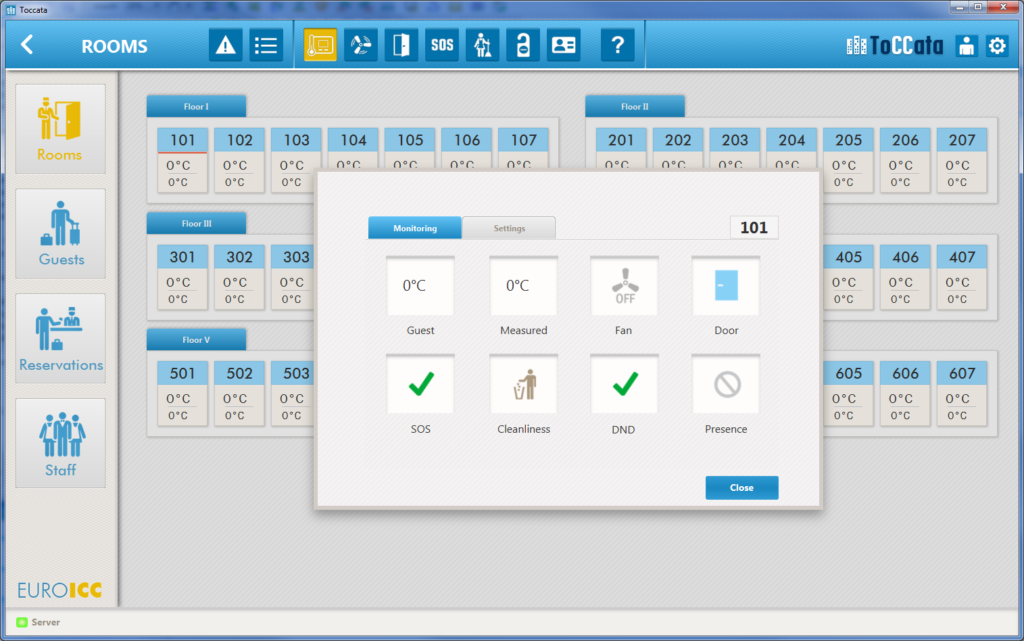 Room status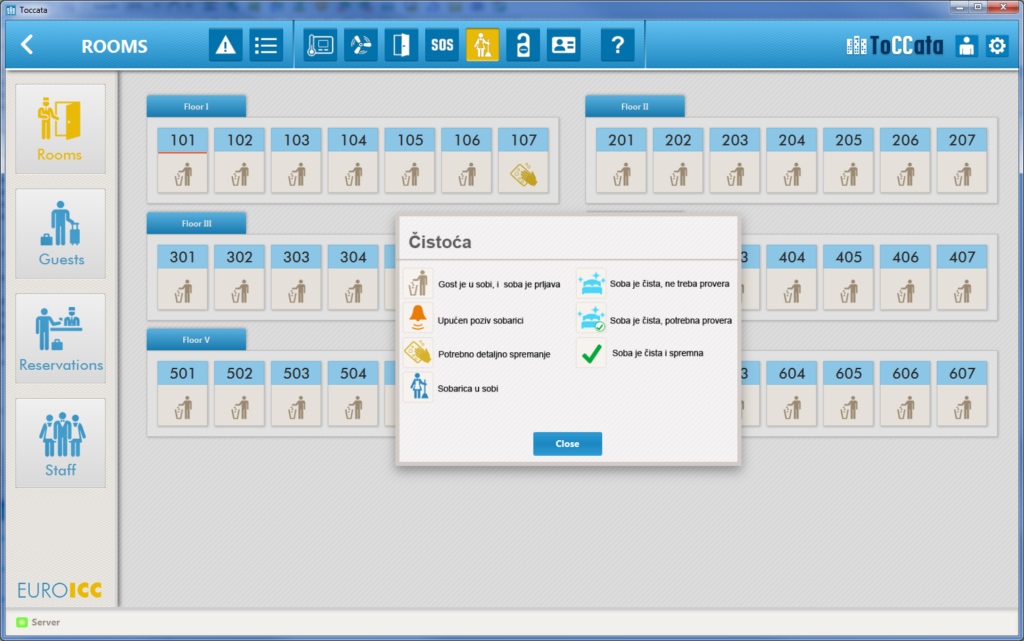 Fan speed monitoring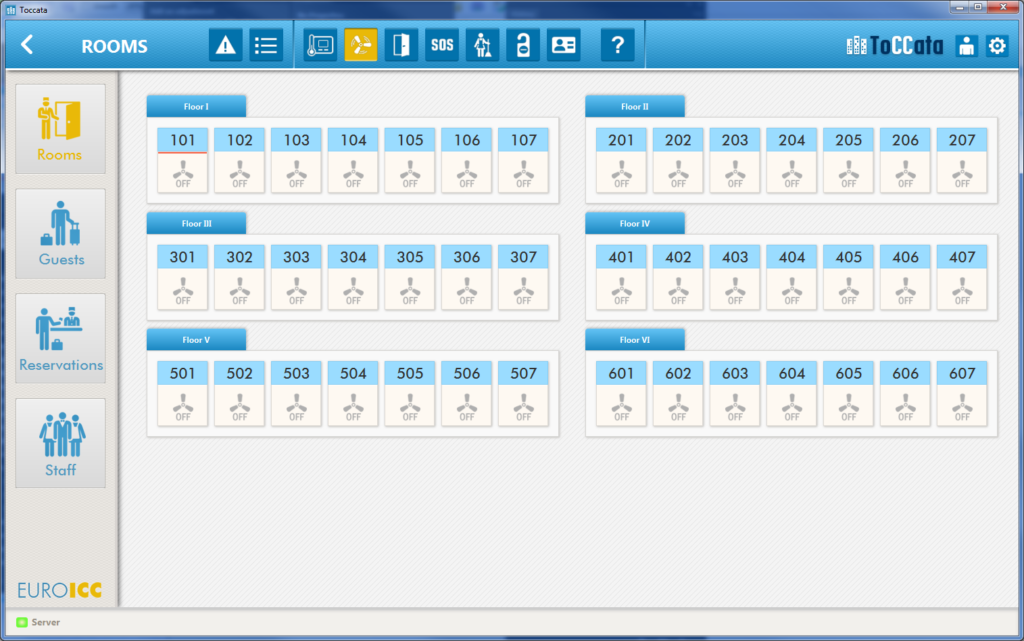 GUEST MANAGEMENT
Add a new guest, Rent a room, Card creation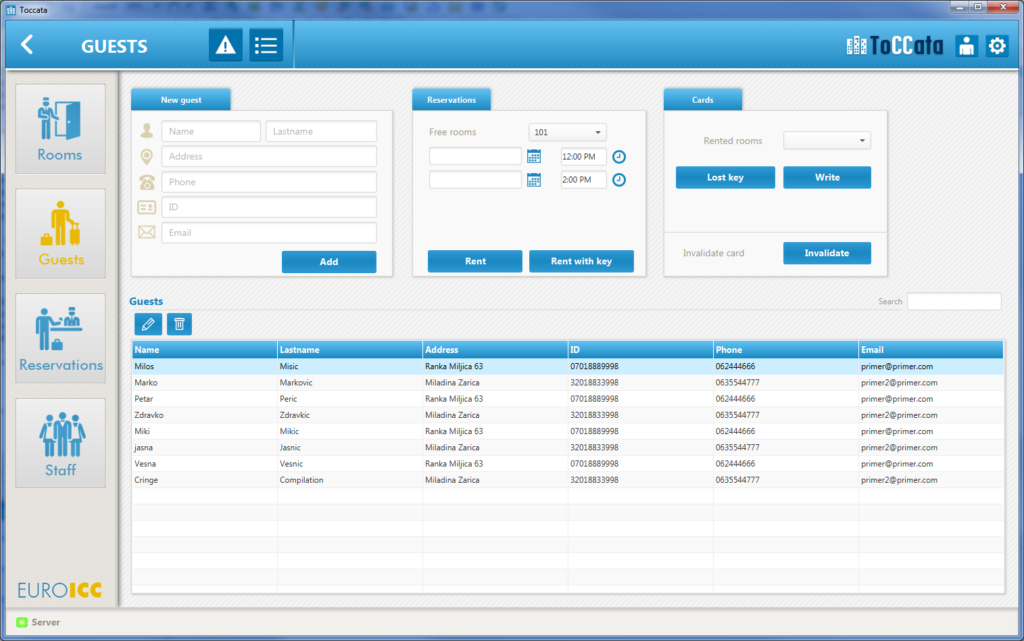 ROOM MANAGEMENT
PMS is used for collecting data for this part of the application. Toccata can operate independently from PMS to program or erase key cards. The list of guests can be selected on the drop-down menu.
STAFF MANAGEMENT
This section is to be used by hotel staff for key-cards encoding.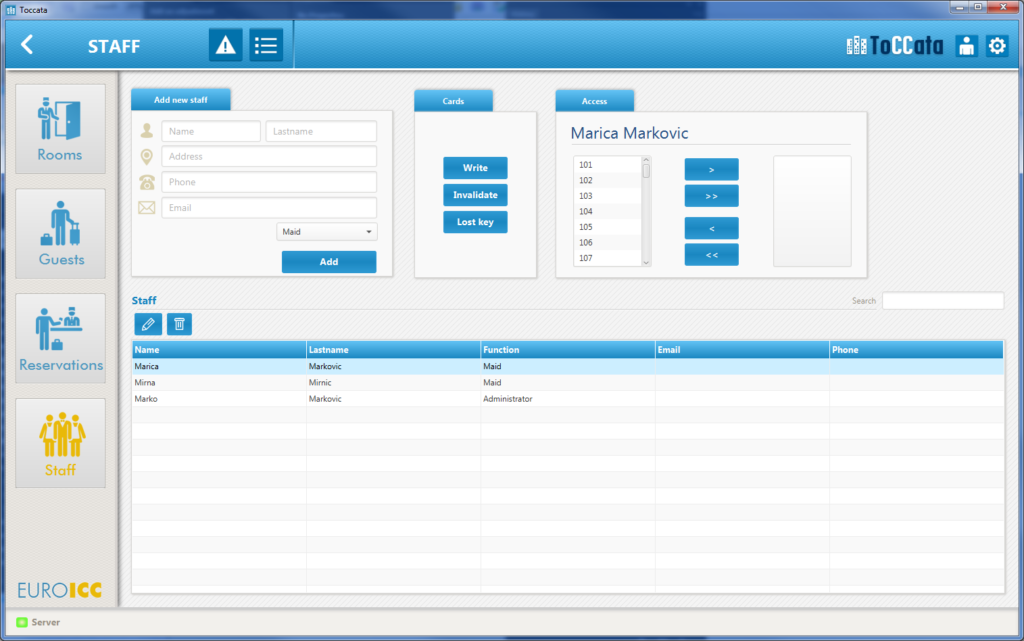 INSTALLATION
The server application and the PostgreSQL database are designed to serve a single hotel.
If Java JRE is not installed it should be installed with the minimum version of 1.8
Installation will be conducted by a trained IT person.
Connection with the card encoder needs be manually set for each client.
Server needs to be configured with a static IP address.
THIRD PARTY LIMITATIONS
Client application doesn't have a limitation on number of users.
There is no limit to the number of card encoding units that can be added to the application.
Guest Room Management System - Technical documentation