Savings, comfort and safety
Energy consumption (HVAC and lighting) is one of the largest operating costs in hotels.
Guests are away from their rooms more than 50% of the time, frequently leaving utilities running in their absence.
Save up to 30% of annual guest room HVAC and  lighting energy use in guest rooms with EUROICC's Smart Hotel Control installed.
Thanks to its smart management of rooms energy systems, our solution brings major savings and therefore improves a hotel's bottom line. It is also in compliance with global green building trends.
Our solution brings high level of comfort for guests enabling them to easily communicate with hotel staff to create a room environment according to their own needs.
For more info visit Smart Hotel Control site.
Main functionalities
Hotel room smart management system based on C series of microcontrollers is a flexible solution applicable for different size hotels – from small inns to luxurious hotels.
Main functionalities are access control, power saving, staff monitoring and more effective processing of different alarms.
Access control is implemented by RFID cards with security codes that guarantee safety in building. Security level is increased by alarm signals (SOS, flood, burglary) instantly sent to the monitoring computer.
Energy consumption optimization is achieved by air-condition system management, room lighting control and water consumption control.
Monitoring of hotel staff activities includes monitoring and reports on cleaning, maintenance and room availability control. This kind of monitoring improves quality of service and reduces business expenses.
Alarm system processing includes SOS calls, room service, "do not disturb" sign, flood and fire alarms, unauthorized access alarm etc. These features increase security level in the hotel and are often required for hotel's higher rank.
Web BACnet Router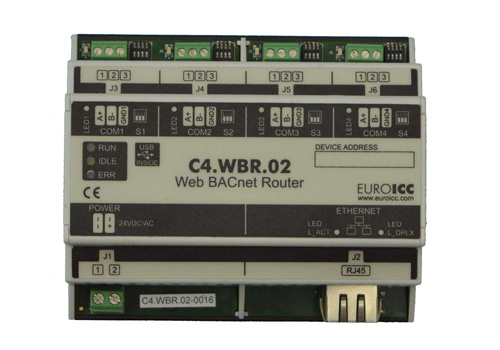 WBa BACnet Router
Functional Controller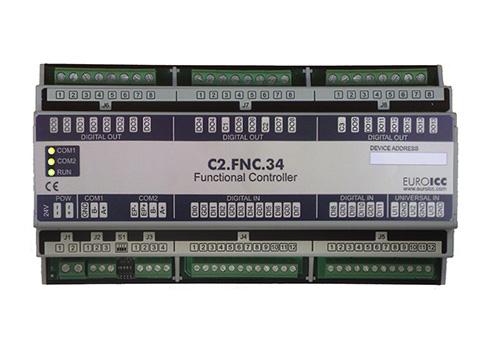 Functional Controller
Room units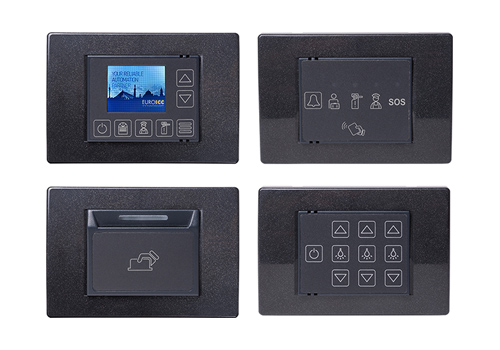 Room units
Glass Room units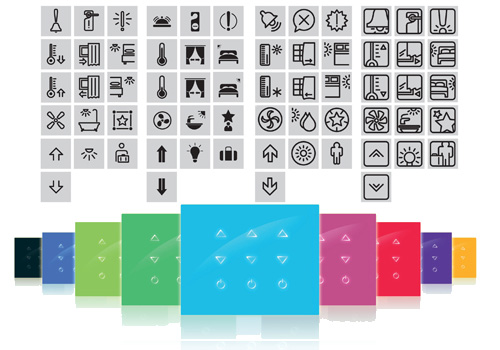 Glass Room units

Communication infrastructure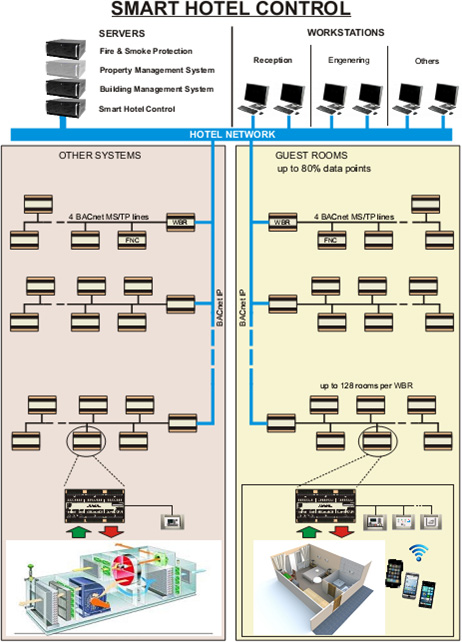 Room controllers are connected per floors or sections by BACnet MS/TP IP connection RS485 with BACnet router C4.WBR.02
One MS/TP line can connect for example up to 254 C2.FNC.34 functional controllers. Length of the communication line is maximum 1000 m.
BACnet router is connected to the monitoring server by ethernet connection on BACnet/IP protocol
Our system communicates with PMS and BMS and any other external system such as fire protection system
Central server (SHC-R) has SCADA functionality and can be extended with various data link and visualization modules
SHC-R acts as a communication bridge with Fidelio
Reception management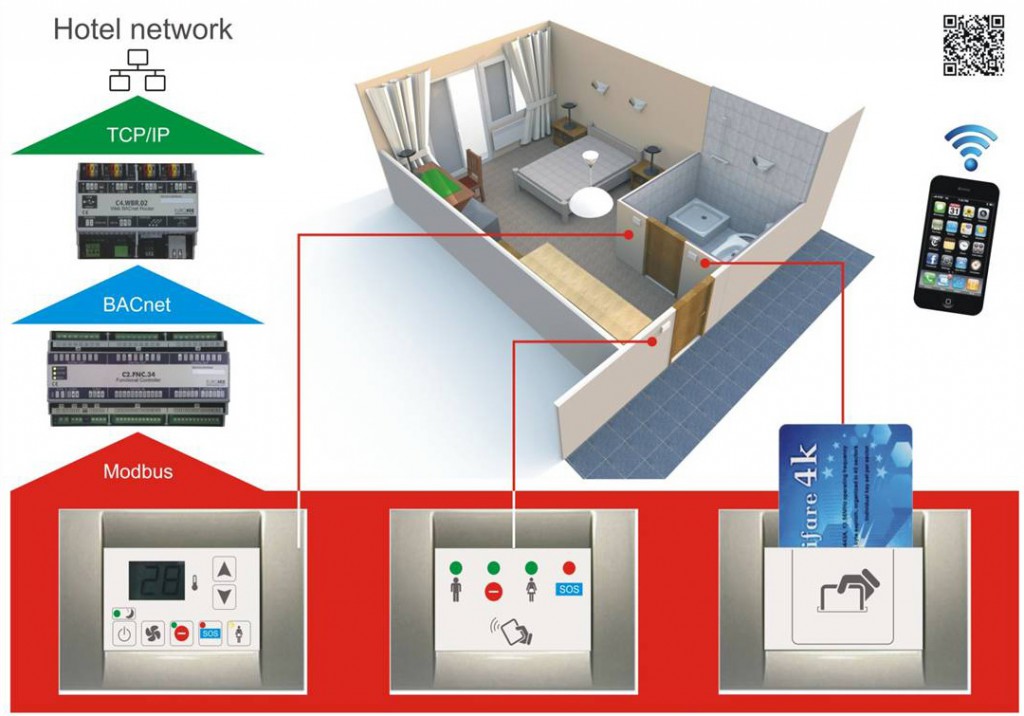 Smart Hotel Control enables complete overview at the reception. From check-in to check-out all calls and signals sent by guest from their rooms are registered at the reception
Further more, reception receives emergency signals such as flood and burglary
All signals are shown in real time
Software overview
Our system uses standard BACnet and Modbus protocols
Modular – supports different data sources and data visualization modes
Micros Fidelio is one of the most widely used hotel property management systems
Smart Hotel Control integrates through FIAS into hotel systems that use Micros Fidelio
Micros Fidelio covers reservations, guests, rooms, keys, state of equipment in rooms, hotel staff, paid contents (swimming pools, saunas, parking, etc.)
Documentation
Technical documentation